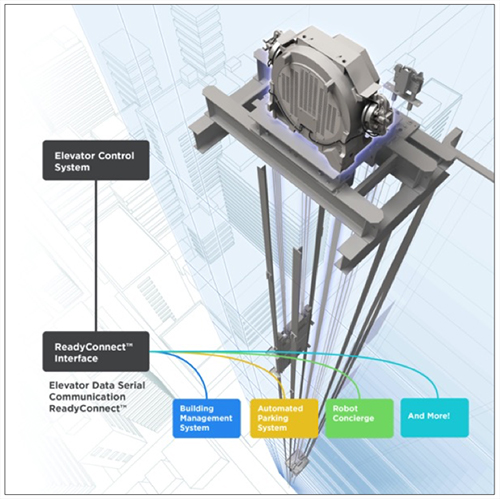 READY CONNECT® is a network communication device that allows Mitsubishi Electric Diamond-Trac® and Diamond HS™ elevator systems to communicate and connect with other building systems, acting as an interpreter. Historically, elevator systems have been relatively isolated and difficult to integrate with other building systems for monitoring and control. Mitsubishi Electric's READY CONNECT® network communication protocol gateway, however, opens the doors to the next level of connectivity with the ability to speak to multiple systems, including HVAC, security and user information systems, concierge desk assistant bots, parking garages and more.
How does READY CONNECT® work?
The READY CONNECT® centralized package transmits and receives call requests from third-party equipment through an ethernet connection. These outside systems can then utilize the signals for their unique operations while maintaining secure elevator operations. The READY CONNECT® platform allows connections from parallel to serial through a single network communication. This single system is made up of two foundational interface systems. The first system is a gateway used for security and operations that require rapid confirmation such as access confirmation/control, car assignment or car arrival indication. The second system is most often used with building management systems for floor lockout, and elevator status monitoring, etc.
"While connection and communication with third-party systems are possible without the READY CONNECT® network communication protocol gateway, our new package improves ease of use, streamlines connectivity and reduces the complexity and cost of integration. With the READY CONNECT® network communication protocol gateway, facility managers have extensive new possibilities for elevator system integration and monitor and control capabilities."

Erik Zommers, senior vice president and general manager, Mitsubishi Electric US, Inc., Elevator and Escalator Division.