Purpose
We, the Mitsubishi Electric Group, will contribute to the realization of a vibrant and sustainable society through continuous technological innovation and ceaseless creativity.
Our Values
Trust: We develop relationships based on strong mutual trust with all stakeholders including society, customers, shareholders, suppliers, and employees working together.
Quality: We ensure the satisfaction of society and customers by providing products and services of the best quality.
Technology: We provide society with new value by enhancing technology and onsite capabilities.
Ethics and Compliance: We act with high ethical standards and comply with laws and social norms.
Humanity: We prioritize health and safety, promote diversity and respect personalities and human rights.
Environment: We strive to protect and improve the global environment, doing so in harmony with nature.
Society: We contribute to the development of a better society as a corporate citizen.
Commitment
"Changes for the Better" represents the Mitsubishi Electric Group's attitude to "always strive to achieve something better," as we continue to change and grow. Each one of us shares a strong will and passion to continuously aim for change, reinforcing our commitment to creating "an even better tomorrow."
Visit Mitsubishi Electric site
Mitsubishi Electric Elevators Global
In 1931 Mitsubishi Electric started manufacturing, installing and maintaining elevators and escalators, and has been a major name in the industry since then. With a reputation for creating breakthroughs that make getting around more comfortable, safe, and even inspiring, Mitsubishi Electric Elevators and Escalators continually sets the standard for quality and innovation in the industry worldwide. With monumental elevator and escalator installations in numerous locations all over the world, Mitsubishi Elevators is ranked as the quality leader for the manufacture, installation, modernization and service of the vertical transportation industry.
Always striving to remain ahead of the technological curve, Mitsubishi Electric Elevators is constantly thinking of new ways to improve our products. To meet the need for larger high-speed elevators in ever-higher buildings, the company built the world's highest test tower, SOLAÉ, in Inazawa, Japan. At 586 feet, or the equivalent of 40 stories, this tower serves as a testing ground for the latest high-speed high-rise elevator models. Here any test that can't be carried out by computer is performed, including emergency stopping, safety and comfort tests, and the data gathered from these tests is directly applied to future elevator development. This continuous flow of research and development keeps Mitsubishi Electric at the helm of elevator innovation.
Visit Mitsubishi Electric Global Elevators & Escalators site

Mitsubishi Electric US, Inc. Elevators & Escalators
One of five divisions of Mitsubishi Electric that operates in the US, Mitsubishi Electric Elevators US is a testament to the successful model established by the company in its formative years in Japan. Widely recognized as the leader in quality, Mitsubishi Electric has been serving the vertical transportation needs of buildings of all types and sizes in the United States since 1985. Our reputation for consistently exceeding the rigorous requirements of building owners, contractors and respected architects has resulted in elevator and escalator installations — including machine-room-less elevators, hydraulic elevators, high-speed elevators, spiral escalators and more — in some of the most high-profile properties in North America. Quality in Motion® represents the company's commitment to research and development that drives the continual evolution of technological improvement, and our company puts this notion into practice every day.
With locations in Hawaii, Illinois, Nevada, Washington, Florida, Tennessee, Washington DC Metro, Boston, Northern California, Dallas, Florida and two locations in Southern California including our corporate headquarters in Cypress, CA, Mitsubishi Electric Elevators US stands ready to service buildings, owners, architects and contractors throughout the United States — from design and installation to elevator maintenance.
Principle
Based on our policy, Quality in Motion®, we provide elevators and escalators that will satisfy our customers with high levels of comfort, efficiency, ecology and safety.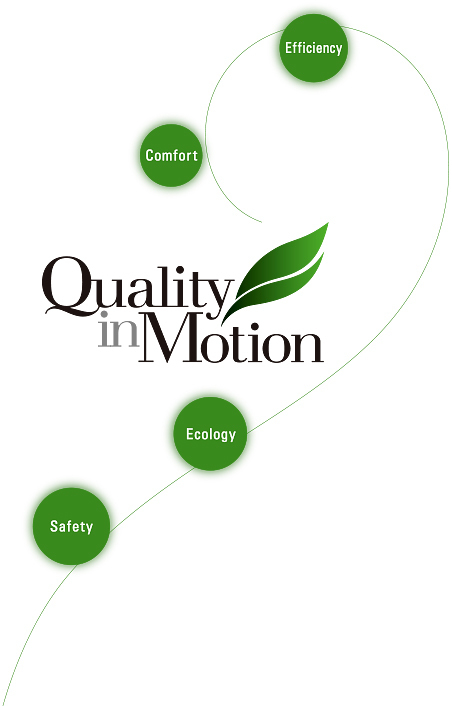 Efficiency:
Promoting energy-savings with cutting-edge drive/control technologies
Improving efficiency of building management and transportation in buildings
Pursuing space-saving developments
Comfort:
Smooth riding comfort
Universal design
Creating comfortable building environments
Ecology:
Saving resources through downsizing and weight reduction
Using environmentally conscious materials
Promoting eco-factories
Safety:
Ensuring safety during boarding and exiting and at the time of an emergency
Developing highly durable and safe service systems
Offering advanced building security
Mitsubishi Electric elevators, escalators and building management systems are always evolving, helping achieve our goal of being the No.1 brand in quality. In order to satisfy customers in all aspects of comfort, efficiency and safety while realizing a sustainable society, quality must be of the highest level in all products and business activities, while priority is place on consideration for the environment. As the times change, Mitsubishi Electric promises to utilize the collective strengths of its advanced and environmental technologies to offer its customers safe and reliable products while contributing to society.