Some of the Diamond-Trac® (MRL) advanced features include:
Reduced torque ripple for a comfortable, smooth ride
Our gearless traction machine with the new PM (permanent magnet) motor is packed with cutting-edge technology, such as our unique stator-core structure and built-in double brakes — dramatically reducing the level of torque ripple for a smooth and quiet ride.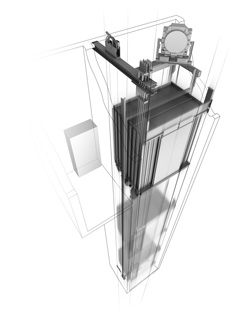 Advanced door controls
VVVF (Variable Voltage Variable Frequency) Inverter Control is utilized to ensure smooth, quiet door operation — enhancing passenger safety and product reliability. Our innovative door operation system uses "one-chip RISC microcomputer" to detect variations in the door load, the strength of the wind and even debris in the sill grooves — adjusting the door opening and closing speeds as well as the door motor torque at each floor using the Auto Tuning function. Furthermore, our door system is structurally isolated to the car frame as opposed to mounted directly to the car top, thereby reducing noise and vibration transmission from the elevator cab.
Efficient use of power
When machine-room-less elevators travel down with a heavy car load or up with a light car load (regenerative operation), the gearless traction machine functions as a power generator. Although the power generated during traction machine operation is usually dissipated as heat, the regenerative converter transmits the power back to the distribution transformer and into the electrical network in the building along with electricity from the power supply. This system provides an energy-saving effect of up to 35% (Reduction in CO2 emissions: 1400 kg/year).
More architectural freedom
Architects, builders and interior designers will appreciate the design freedom that comes with a machine-room-less elevator system. An overhead elevator machine room is no longer needed — as all machineries successfully fit into the hoistway, except the control panel, which can be placed anywhere within a 100 foot distance from the gearless traction machine. Also, a conventional machine room elevator applies load stress on a building's structure, whereas the guide rails of Diamond-Trac® support as much as 75% of the stress for added building friendliness.
Machine room removed for space saving
The miniaturization of the traction machine, leading to the development of the gearless traction machine with PM motor, enables a hoistway to contain driving devices that are usually installed in a machine room. What's more, the area of the hoistway is almost the same as our conventional elevator — for additional space saving. All you have to think about in your planning is a hoistway*.

*NEC 2003 Article 620-71 and ASME A17.1 2004 - A17.a-2005 Rule 2.7.6 stipulate that an elevator control panel must be installed outside the hoistway, and thereby a separate room is required for control panels.