Mitsubishi Electric provides elevator maintenance and repair services in the U.S. for all major elevator brands. Our service methods and team of knowledgeable technicians can be applied to provide quality service and maximize uptime for a number of different applications.
Contact a Mitsubishi Elevator Technician
Extend the life of your third-party elevator equipment
Without an elevator preventative maintenance program, ride quality can quickly deteriorate as equipment ages. This can lead to an increase in both running costs and downtime — as well as safety and quality issues like increased vibration. We do not wait for failure indications before providing maintenance, and we understand that regular preventative maintenance can help detect potential issues before they become much larger problems. When individual equipment requires significant updating, we collaborate with you to provide the level of modernization services that make sense for you. From targeted component modernization to full equipment replacement, our modernization services ensure that you can restore reliable, comfortable and safe elevator operation regardless of the current condition — at a price that fits your budget.
"Mitsubishi Electric worked with us on a fair, custom service contract […] They understand our business and why we insist on predictability. And we're not just talking predictable bills. We don't have to call them as often because they do proactive maintenance. But if we need them, they're very responsive."

— Sal Masotto: Westfield, Senior Director, West Region Facilities Management
Why Mitsubishi Electric for elevator maintenance?
Our elevator service technicians are familiar with both normal and emergency operations of all major products. This allows them to develop a keen sense of the proper operation and clear expectations for your equipment — minimizing downtime for repairs, eliminating potential callback events and reducing your liability exposure. If your elevator includes AC VVVF drive, you can rest easy knowing that Mitsubishi Electric has decades of experience in maintaining this type of drive system — having pioneered the application of that technology in the 1980s.
Customer spotlight: Westfield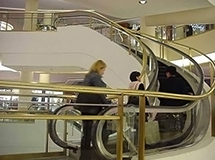 Mitsubishi Electric earned Westfield's trust and business with a high-quality, custom vertical transportation service contract — minimizing downtime with preventative maintenance for equipment by all leading manufacturers. In fact, 80 percent of the equipment maintained by Mitsubishi Electric for Westfield is covered under "foreign maintenance," meaning the equipment was manufactured by a third-party. Learn how we helped Westfield maximize customer purchasing power with reliable equipment, reduced callbacks and greater uptime.
Our third-party elevator maintenance contract conversion process
When you agree to an elevator service contract with Mitsubishi Electric, you can be confident that you're in good hands. We start with an onsite introduction / logistics meeting prior to our agreed-upon start date. Then, we conduct equipment inspections, procure onsite inventory parts for all equipment and review required repairs. Next, we schedule a repair team for pre-maintenance to bring the quality of your equipment up to Mitsubishi Electric's U.S. standards. We'll also conduct emergency phone transfer and testing, if required. Once your equipment is brought up to our Quality in Motion® standards, we'll continue to provide preventative maintenance for the duration of our service contract — helping you reduce your Total Cost of Ownership and increase uptime.
Third-party elevator maintenance coverage
Mitsubishi Electric U.S. vertical transportation maintenance agreements cover the following items:
Machines
Power converters
Control panels
Position control devices
Governors
Car and counterweight equipment
Hoistway equipment
Landing equipment
Fire control panels
Hydraulic components
And more!